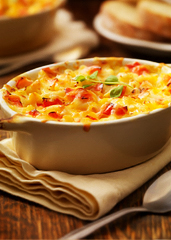 You're not one to complain.
However, it's recently come to your attention that no one's delivered any seafood mac and cheese to your door yet this holiday season.
Fixing that unacceptable mess:
Miss Pinkie's Seafood Mac & Cheese
, an impeccably timed new service whose sole purpose in life is delivering pans of cheesy, shellfish-laden noodles to your door, taking orders now.
Meet Shameeka. She's the local cook who took her grandmother's mac and cheese recipe and tweaked it with a little consultation from Star Provisions' go-to cheese guy. The result: a revamped masterpiece involving four to six cheeses and three kinds of shellfish (lump crab, scallops and shrimp). And elbow noodles. Those are important.
This is pretty ideal for outsourcing cooking over the next couple weeks. Just email her your order five days before you need it. Then sit back and wait for a knock at the door. When it comes, do that dance you do when you're happy about eating some food.
And if you have a holiday party on Thursday and find yourself crunched for time, go to her pop-up at Savor (a new wine shop in Kirkwood) beforehand. She'll be there with a just-for-the-holidays lobster and cognac-sauce version.
Which you should probably eat out of a snifter.