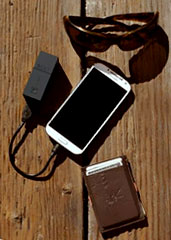 Tomorrow: huge meal.
Today: tiny charger.
Squint for
Bolt
, a sleek portable backup phone battery that's roughly the size of your thumb (assuming you don't have freakishly small or large thumbs), available now.
When you're thinking of things you're thankful for after dinner tomorrow night, feel free to add "a phone that never dies" to the list. So, danke, ridiculously-small-2.75-inch-portable-charger-with-twice-the-battery-capacity-of-similar-but-larger-products.
Anyway, when you're at home, leave this little guy plugged into the wall and just pretend it's your regular charger. It'll work... like a regular charger. Only you'll be simultaneously powering both your phone and the device's super-tiny 3,000 mAh battery. (Otherwise known as the Holy Grail of the infinitesimal battery world.)
Then, when it's time to head to a destination where outlets typically don't exist—a plane, a tailgate, a hammock on an island off the coast of Spain—you'll have this rubberized mini black box on hand to draw a charge from.
A charge. Inspiration. Whatever.