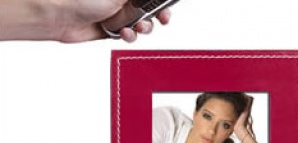 No matter how much you try to arrange things otherwise, women will still find some way to surprise you.

The drop-by. The pop-in. The run-into and stop-over.

And unexpected visits can produce all kinds of unexpected pleasures—as long as some other girl's picture isn't the first thing she sees.

At least now your game will be covered and taken to a whole new technological level, thanks to the Parrot Photo Viewer. Available in several appealing styles like crocodile-embossed leather and white-leaded oak, it's the first digital photo frame that's Bluetooth-enabled, which means pics can be sent to the frame wirelessly, straight from any Bluetooth device (like your computer or camera phone) from more than 30 feet away. The frame holds over 80 pictures in its internal memory, which can be rotated or set on a slide show. But the key is that you can send it a new picture to display in seconds, with just a quick, undercover stroke of your button.

This guarantees that your lovely creature, whoever she might be for that moment, will be delighted to look upon her visage, framed front and center on your mantle or desk.

Just remember not to hit that slide show button by mistake or you may quickly find out that each picture's worth a thousand words...a thousand angry, angry words.