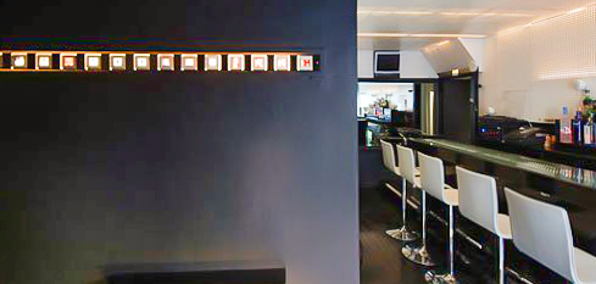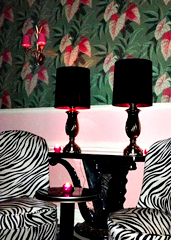 Kenmare.
Beatrice Inn (see: the halcyon days of...).
General DJ famousness.
Paul Sevigny's been a part of all that. And now...
Say hello to
Paul's Baby Grand
, a tropical paradise of lounging and dancing from Mr. Paul Sevigny, now open Wednesday through Saturday at Tribeca Grand.
The words "embrace it" come to mind here. Zebra-print chairs. Hibiscus on the wallpaper. Areca palms everywhere. A general feeling of... pink.
Order a drink. They come on silver trays, served by waiters in white jackets with tropical aprons (designed by that other Sevigny, Paul's sister, Chloë). Our recommendation: try the
champagne julep
. Because... look around you. It's champagne julep country if ever such a place existed.
Around midnight, a DJ will set up and start going to work. Men and women who, by day, make their living looking into the middle distance in high-gloss magazines (you may know these people as "models") will stand and obey his siren song. You will, too.
You always surrender free will around hibiscus print.