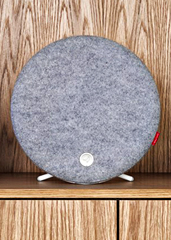 Welcome to November. Wool season.
Make sure your speakers get the memo.
Open your ears to the
Libratone Loop
, a circular wool-covered speaker that hails from Copenhagen and plays music well. Really well. Available online now.
Let's not make this complicated. It's a speaker. It's from Denmark. You sync it wirelessly with your smartphone or computer and then you bask in the auditory bliss that only 120 watts of Jethro Tull (or... something not Jethro Tull) can provide.
Now, there's a reason this thing is shaped like a circle. And that's so you can create an acoustically perfect listening environment where sound is projected evenly off of every single surrounding surface. Also, it's so you can say things like "Hey, I'm listening to 'Thunder Road' on this circle."
Oh, and about that soft wool the speaker comes wrapped in: it's Italian and it's available in interchangeable colors (think gray, red or black).
Yup. Outfits for your speaker.