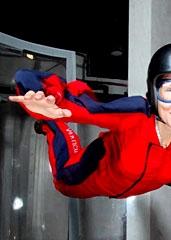 We hope your Halloween costume is still in good condition.
Because you're going to need that cape.
Say Geronimo for
iFly Dallas
, the place you'll go to when you're looking to skydive... minus the whole plane and free-fall and risk-of-dying thing, taking reservations now and opening November 27.
So there's this building. And inside that building is a glass-walled silo. And inside that glass-walled silo is a massive fan that's powerful enough to create a giant wind tunnel with gusts in excess of 175 miles per hour. You go in there. Voluntarily. And that's iFly Dallas.
Begin by making a reservation. Then, arrive an hour early so you can check in, attend a training session, sign a waiver (you knew there'd be a waiver) and change into one of their aerodynamic flight suits. Or, you know, bring your own.
All that's left to do now: step inside that silo, bid farewell to gravity and float. Keep floating. Float some more. Maybe try a backflip or something. Pause for a minute to consider future third-date implications.
Okay, break over. Back to floating.