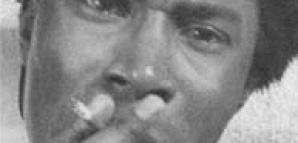 A spot is only as good as its door—or the professional blocking it. Below, another installment of
THE DOOR
,
an inside guide to the keeper of our favorite garden cabanas at Ono.
~QUICK STATS~

DOOR:
Garden of Ono

NAME
: James C. Jameson
NICKNAME
: Steve

SHIFT
: Tuesday through Saturday
AGE
: 26...give or take 10 years
HEIGHT
: 6'3...give or take the hair
WEIGHT
: 192
UNIFORM
: Blue striped shirt, dark jeans, orange sneaks.
HOMETOWN
: East London
FORMER DOORS
: Belmont Lounge
EDUCATION:
NYU (major: Art History, minor: Philosophy)
FAVORITE BOOK
:
The Official Guide To Success

~THE FACTS~
REJECTION RATE:
Last year it was 80%.

DOOR PHILOSOPHY:
Everyone has to be part of the delicious recipe. Vinegar isn't in the recipe—vinegar isn't getting in.
LARGEST BRIBE REJECTED
: I got offered a part in Ryan Gosling's movie, "
Half Nelson
," by one of the producers.
BEST WAY TO "CURRY FAVOR"
: A smile. Some people won't smile, then they smile, and they get in.

B&T TELLTALE
: They show up on a Saturday.

BEST LINE TO USE
: "Hi, how are you?" and really mean it. A little sincerity goes a long way.

WORST LINE TO USE
: I hear it all the time: "My girlfriend's inside." "What's her name?" "Umm..."
CLOTHING DON'TS:
Leave your bag at home, 'cause you're out to have a good time! For women, when your feet slide off your shoes...it looks like you're in your Mum's shoes. And people who think Ono is the World Wrestling Federation, who come dressed like they've just come from a monster truck show, and who have that attitude. It's like I'm baking an applie pie. 
AUTOMATIC DQ'S
:If you're making fun of other people waiting to get in, like "Oh she's so fat." Guys, or groups of guys, who come up to me, smile, and say "Any bitches inside?" Also, Halloween-costume style fluorescent color contacts. Those things are just freaky.
AUTOMATIC ENTRIES
: Old people on a date, that's a #1! No matter how funky your clothes are—so sexy! How cool is that? Also, if you can beat me at rock, paper, scissors, 'cause I'm the best at it.