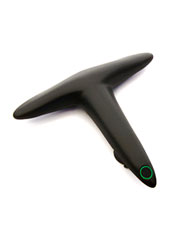 Fighter jets.
Formula 1 cars.
MapQuest.
Your bike.
Three of these things use incredible navigation systems.
And one of these things is... well, it's MapQuest.
Take a ride with
Hammerhead
, a handsome piece of gadgetry that navigates your bike around town using light cues and signals, available for preorder now.
Okay, so your bike isn't exactly a fighter jet. But with this device you can maneuver it like one. See, it's a T-shaped apparatus that uses a series of flashing lights to guide you on your route—kind of like the ones used by pilots and race car drivers. Which... helpful if you've lost your way during Critical Mass, but... that never happens. Right.
To get started, you'll want to preorder this online. Once it arrives, you'll mount it on your bike. Then, you'll download their app and set your route. You can pick one according to distance, scenery, difficulty or the amount of hills you want to scale. Then, you'll sync it up to the Hammerhead, put your phone away and follow the light cues to cycling glory.
And if you're looking for a friendly wager, you can use the app to send routes to friends and see who completes the course fastest.
Or who follows directions.