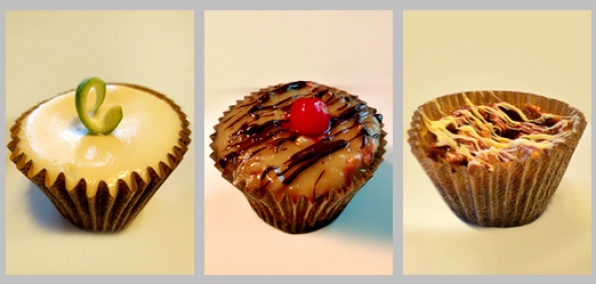 We're lovers. You know that. But every now and again, something comes across our desks that just seems... suspicious. Because of the tremendous material upside to all our lives if these claims pan out, we at times put ourselves in harm's way to investigate. Albeit skeptically.

We call it: Skeptical Investigation. (Trademark pending.)

THE CLAIM
That a Stone Mountain firefighter's edible and newly available invention, Pi-Bytes, has successfully merged three things previously best enjoyed separately: the pie, the cupcake and the cocktail.

THE INVESTIGATION
Our resident cake... person went to the website, chose a half-dozen of the most interesting-sounding (read: alcohol-filled) desserts and eagerly awaited their delivery. Right. They deliver. Which is marvelous.

Anyway, fast-forward one day to delivery time. Our investigator grabbed a spork and went for it. Wrappers were peeled back. Mouth samples were collected. Flavors like lime, German chocolate cheesecake and white chocolate pecan were registered. So were flavors like tequila, amaretto and bourbon, respectively.

THE VERDICT
The bottom crust was pie-like. The circumference was cupcake-like. Kind of like if Thanksgiving and your birthday were celebrated on the same plate. Our baked-goods technician isn't predicting that these will be the next cronut, but they're also not not predicting that.

Mainly they're not predicting that, though.