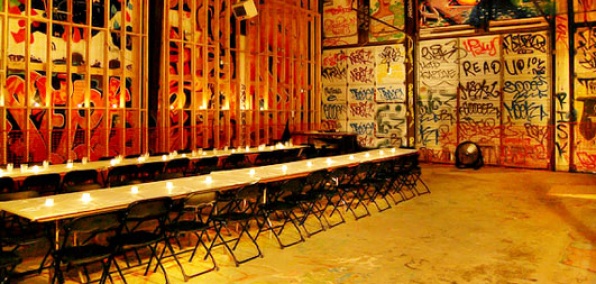 Secret clubs can be so demanding.
You have to keep them secret. You have to avoid taking photos. You have to wear only body paint and striped socks. It's crazy.
Time for a kinder, more inviting secret club, that only wants to feed you some nice lobster beignets...
Join the ranks at
Dinner Lab
, a new members-only dining club hosting unforgettable meals in clandestine locations, accepting members now in Los Angeles.
First, to be invited to one of their dinners, you have to become a member. So go to the website quickly to sign up, pay your annual dues and congratulations—you're now invited to (buy tickets for) whatever they're doing. If you're wondering if they've ever hosted a Cajun gator feast inside a Brooklyn brewery... yes, yes they have.
The LA dry-run dinner involving juniper-ash crickets is booked up—luckily, you're kind of OD'd on juniper-ash crickets—but tomorrow, tickets go on sale for the next dinner in November. All we can tell you is that you and 99 strangers should expect seven courses of lobster beignets,
black pepper crab and churros
from a guy who cooked at Gramercy Tavern and Alinea. You won't know where it's happening until the day before.
It won't be Vernon.
Note:
<a href="http://dinnerlab.com/" target="_blank">Dinner Lab</a>, accepting LA members now, $175 annual dues (additional event costs vary), UD members bypass the application process <a href="http://goo.gl/1ETGxq" target="_blank">here</a>, <a href= "http://www.urbandaddy.com/uploads/assets/file/pdfs/504900dd56401943632b6404a01d108d.pdf" target= "_blank">see the November 16 menu</a>