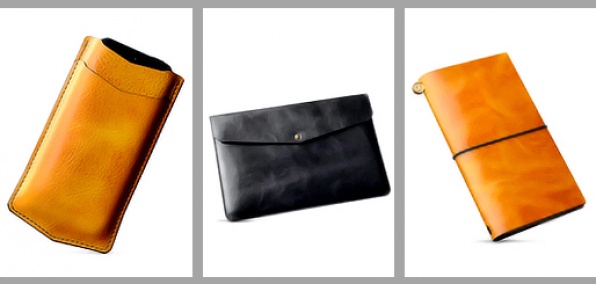 You'll travel to Italy for a great many things. An audience with the pope. A gondola ride.

Leather is not one of them. Fortunately, their leather now comes to you.

Here then: Manekibook, a line of heirloom-quality leather wallets and gadget cases that are just begging for you to travel with them, available now.

This is a company that started in Kiev, is now based in Prague and deals exclusively in hand-stitched, vegetable-dyed leather out of Florence. (So, yeah, they take euros—but don't worry, your dollars will convert.)

Their wares: smartphone cases, with a credit card pocket and vents to keep your phone cool. Or a leather pouch for your tickets (useful if you were jetsetting back and forth from Boston to St. Louis this week). Or a long, tall currency wallet designed to hold up to 100 bills (useful for bribing an usher to upgrade your game seats).

And if you must go analog for a few minutes, you can also grab one of their leather-bound notebooks, sporting a brass seal shaped like a jet engine and filled with Italian paper.

No, you can't get them at Italian Staples.