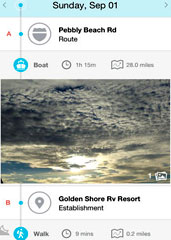 Having someone follow you around and document your every move... it's creepy.
But having an app do it... still a bit creepy.
Convenient, though.
Retrace your steps with
Rove
, an app that remembers and records everywhere you've been so you don't have to (and because you probably don't want to), available now for iPhone.
You could equate this to a nice leather-bound travelogue. Except the automated app version of that. Because it does all the heavy lifting, pulling GPS data from your phone and charting your every move. So you can see how this might come in handy at 3am on a Friday. Or if you're that guy from
Memento
.
Anyway, go ahead and download this, then just keep your phone in your pocket like usual and go about your day. Whenever the need strikes (could be tomorrow, could be a year from now), pull it up to relive your past. The precise route you followed on that cross-country road trip. The exact spot you met someone significant. The name of that restaurant with those incredible nachos.
You know, all the major life milestones.