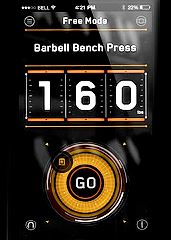 There's no right or wrong way to work out...
... is a statement that's false.
So with that in mind, let's make sure you're not totally blowing it.
Don't totally blow it with
Push
, a workout-specific tracking device that straps to your arm, analyzes your every move and then tells you how to do your every move better, available for preorder now.
You've seen things like this before. Jogged with them. Squatted with them. Pretended to jog and squat with them. But this one's the first to actually use custom algorithms and motion sensors to specifically measure the force you're exerting. And then make adjustment suggestions. Like a really smart and intense personal trainer that lives on your bicep.
Preorder this now, forget about it entirely and then be pleasantly surprised when it finally arrives. Then sync it up with your phone's Bluetooth, slide it around your arm and get into your regular gym thing.
When you're done, check your phone. You'll find a really specific summary of how well you just did. You'll ponder the data. You'll consider the information. You'll get an incoming call and totally forget what you were doing.
Ah, right. A squat.