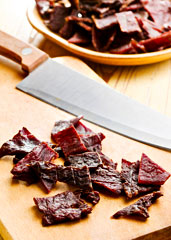 Snacks.
They're the cornerstone of any proper football season.
Nachos. Wings. The bacon bomb. They're snackdom's hall of famers. But sometimes, you get that itch that only beef jerky can scratch.
And if someone could deliver it to your house, that'd be solid.
Snap into some
Novae Gourmet
, locally made dehydrated meat snacks sent straight to your door, available online now.
Back in the day, you could only find this jerky if you carefully staked out the local farmers' markets. But now, you can order their handmade beef and chicken chips online. Which bodes well for you. And your tailgate.
So, say you're on an arduous journey through the swamps of the 'Glades. Or... just watching the Dolphins play the Bills. You'll fill up on dehydrated prime Angus beef made with red chilies and kaffir lime. Or a lean-chicken-breast option with toasted sesame and teriyaki sauce. You'll feel satisfied. You'll feel good. You may even start to feel optimistic about the Dolphins' chances this season.
And if you can't decide between Penang chili and Korean BBQ, they've got a sampler pack with all five of their different flavors.
Pour a little out for Randy Savage.