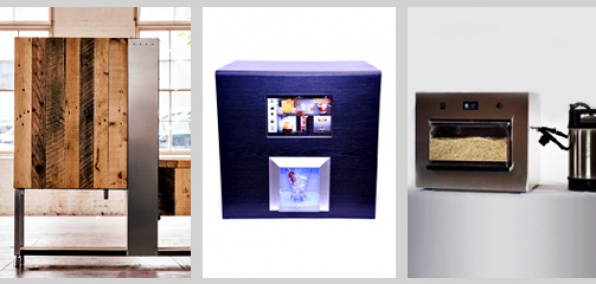 Nobody knows what the future holds.

But we're fairly certain there'll be drinks.

And those drinks will be served by Brewbot (left, a smartphone-powered homebrewer), Monsieur (center, an AI robot bartender) and PicoBrew Zymatic (right, a countertop-size automatic brewer).

They're all available for preorder now on Kickstarter. So here's a little help deciding where to invest...

The Inventors
Monsieur: Two parched engineers from Atlanta.
Brewbot: Six guys from Ireland.
PicoBrew Zymatic: A couple beer snobs from Seattle. And yes, one's a former Microsoft exec.
Edge: Brewbot. Hard not to side with the Irish.

The Bots
Monsieur: Resembles your fridge's ice dispenser. Except it dispenses Old Fashioneds.
Brewbot: A mysterious stainless-steel box. That incubates beer.
PicoBrew Zymatic: Just like the Brewbot, but with a window.
Edge: PicoBrew. You appreciate the view.

The Killer Feature
Monsieur: Touchscreen cocktail controls with a drink-strength slider.
Brewbot: Smartphone integration. It'll text you when to add ingredients.
PicoBrew Zymatic: You know, that window.
Edge: Push. Everybody drinks, everybody wins.

The Kickstarter Bonuses
Monsieur: Atlanta Hawks tickets; a trip to Paris.
Brewbot: A five-day campervan tour of Ireland's breweries.
PicoBrew Zymatic: A field trip to their Seattle headquarters.
Edge: Monsieur. Paris and Hawks tickets. Believe it.