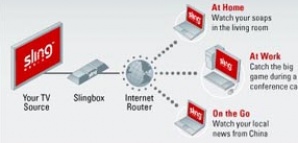 If your 200+ cable channels are your virtual smack and your DVR box is your dealer, you may want to check out the new SlingBox "portable broadcaster," which turns any PC laptop/computer into a portal to your home TV, from anywhere in the world (as long as you have high-speed internet access).

Hook up the brick-sized device to your cable box or DVR (you also need an internet network router), install the software on your computer (some office systems may be too restrictive—too bad for those late nights when your TiVo'd Family Guy would be a savior) and you can watch any program that's on cable or saved on your TiVo/DVR right on your computer screen (you can even program new recordings).

The broadcasts aren't HDTV-quality, but better than most streaming video—watch the news from your tub at home or catch the Mets blowing another homestand from Heathrow. Your home TV is master, though: If anyone changes the channel, you're stuck with an intercontinental fight over the remote control, so make sure your girlfriend isn't using your big-screen for Bridezilla marathons while you're gone.