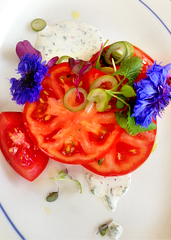 Say you had to hypothetically pick some bacon and eggs out of a police lineup.
(Pretend they robbed you. Whatever. Use your imagination.)
"That's them," you'd say.
Only, whoops.
Looks like you've got a bacon-and-eggs impostor on your hands.
Explanation:
Table on a Whim
, a new roving supper club that's debuting with a five-course meal where each dish looks like something traditional (say, bacon and eggs) when it's actually something weird (say, white chocolate, parsnips and Pop Rocks), taking reservations now for Monday's dinner at Buttermilk Kitchen.
So this is what happens when Suzanne from Buttermilk Kitchen (she's experienced in the whole winning-
Chopped
thing) and Ben of PorKman's Table (he's experienced in the whole winning-at-supper-clubs thing) put their heads together: sporadic feasts with ever-changing themes at ever-changing places like wine cellars and rooftops.
And yeah, that first dinner's called "Spitting Image." Here's why. That tuna tartare they just served you: it's the spitting image of tuna tartare. Only it's actually watermelon with pea wasabi. And that country-fried steak: it's country-fried... tofu.
And after Monday's dinner, who knows.
Some other types of foods probably.