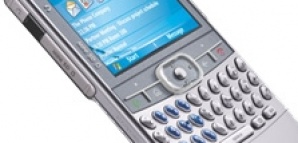 Face it, you have an unhealthy relationship with your Blackberry.

Its bland, unimaginative flat plastic exterior, little toggle wheel and miniature keys bring you sick, comforting joy as you stare at the screen in gripping anticipation of your next email.

If only you didn't have to look like such a grey-suited automaton while using it.

Now you have a sexier gadget to cling to. Motorola slapped some keys onto an extended version of their sleek and skinny Razr—hence the Q, long-awaited and finally available for purchase.

You've still got the little toggle, and the mini keys (although the Q's are spaced slightly farther apart for easier typing). But the Q also has a 1.3 megapixel camera (which takes pics and video), a removable memory card slot, Microsoft Mobile software, and an extended battery available to double the battery life (up to 16 days standby). The coup de grace though, is the Q's Razr-like packaging: barely half an inch thick, small, light and just plain shiny and beautiful.

Desperate, dependent obsession never looked this good.