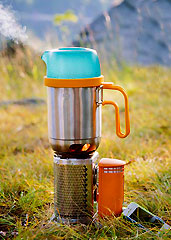 Surviving in the wilderness.
Let's see, you'll need s'mores. Adult refreshments. A bag to sleep in. A flashlight to put under your face. An elaborate walking stick with some type of wolf situation carved onto the top.
Oh, and this...
The
BioLite KettlePot
, a highly advanced little kettle that can cook things and pour things out into mugs, available for preorder now.
It's chilly. Old Man Fall must be close. You know this because it's September. Also, because we just sent you an email about a technologically sound, stainless-steel grab-and-go pot that's pretty much the only thing you need in order to stay alive this camping season. Short of... a bunch of other stuff.
It works best if you use the sold-separately base burner (which also possesses the ability to charge your phone). Place kettle on flame. Add needed accoutrements (veggies and water for soup, some kind of coffee for coffee) and pour. That's it. There's your stew or coffee or purified water or spiked cider.
The fire shield at the base protects the flames from wind while concentrating the heat. And should you need a strong stew-holding receptacle, the bottom hides a screw-off serving bowl.
Which makes for a really great stew-holding receptacle.