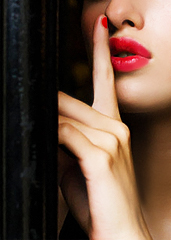 Passwords.
Sometimes they protect Swiss bank accounts.
Other times, unclassified government experiments.
And other times still... gin.
Lower your voice for
Eat Me Speak Me
, a weekly speakeasy cocktail party that starts with a chef handing you a piece of paper with a secret address on it and ends with you drinking barrel-aged cocktails under a cone of silence,
occasionally leaking information here
for the inaugural gathering on September 26.
Since this is all on a need-to-know basis, here's what you need to know. A former Empire State South butcher/charcuterie guy has been running a weeknight dinner out of the Candler Park Market's deli for a few months now. And he's just decided to use that place to peddle secret speakeasy addresses.
Which... nice.
So grab a quick bite at CPM on the evening of the 26th. Ask the chef about that night's affair. He'll slide over a piece of paper with an address and a password on it. Go to that address. Relay that password.
Once inside, well... cocktails. Lots of them. Whatever that week's guest bartender feels like mixing, really. Gin martinis: probably. Barrel-aged bourbon cocktails: likely.
And if we told you who those bartenders were, we'd have to make you disappear.
Yes, that means they're good.