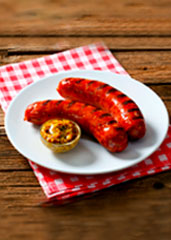 Beer. Bratwurst. 70,000 beer and bratwurst fanatics.
Two out of three ain't bad.
But three out of three is certainly better.
Put your lederhosen on one leg at a time for
Chamberlain's Brau Haus
, a private corner of fine-dining revelry amidst the madness that is Addison Oktoberfest, taking reservations now for Thursday through Saturday.
Consider this your behind-velvet-ropes, VIP exploration of Germany's greatest cultural export. Because everywhere you look, thousands of people are standing in lines and fighting for hefeweizens. But not you. You're inside the Schloss Addison tent at a makeshift restaurant, elevated above the fray and eating things from chef Richard Chamberlain. Top-notch Bavarian things.
So first up:
reserve a few seats
before they're gone. Then, figure out a way to fast-forward to Thursday, which is when you'll commandeer a round table and request a few Paulaners from your dirndl-clad server. Then: pancakes. Of the potato variety. And cinnamon apple strudel. It's not Oktoberfest without strudel.
Or polka. So when you need to stretch your legs, hop down from the Brau Haus platform and chicken dance to some of the festival's live accordion music.
Or maybe just take your beer for a walk.