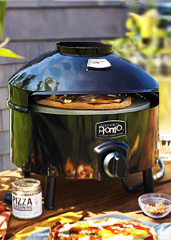 Something's been weighing on your mind lately.
You're not sure what exactly, but you'd estimate it weighs about 26 pounds.
Which means it's either a large puppy or a little pizza oven perfect for tailgating.
It's probably a little pizza oven.
It's definitely a little pizza oven.
Meet
Pizzeria Pronto
, a portable metal oven that cooks pizzas in five minutes flat, available online now.
Without getting into logistics, this thing makes pizza.
With getting into logistics, this thing uses dual cordierite stones (which eliminate hot spots), a reflective heat shield (which redirects heat to the top) and a moisture vent (which allows steam to escape).
But really, it just makes pizza.
Which you'll be doing in a couple Sundays. At the Dome. When we play the Patriots. Just fire it up, wait for the thermometer to read 700 degrees and insert a pie. A few minutes later, you'll be basking in the sweet glory of... actually, you'll just be eating pizza. But it'll be better because you'll be eating it in a parking lot.
It comes with almost everything you'll need (cleaning brush, baking stones...), but the site also has accessories. Like a small propane tank adapter and an aluminum pizza peel.
The propane thing seems sort of important.