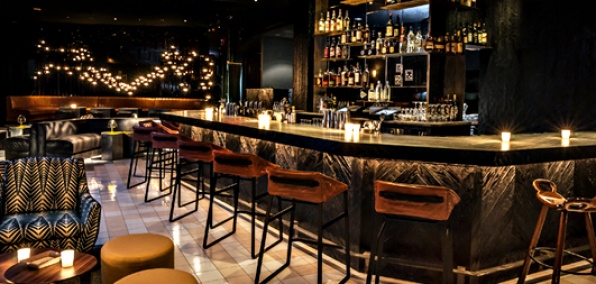 Bonjour = hello in French.

Hola = hello in Spanish.

Get all that?

Okay, you're ready to go for tonight...

At Bar Naná, the quintessence of a sumptuous Meatpacking lounge (in only the good ways). It's opening tonight, and here's what you need to know.

It's the old (new) Double Seven space.
Right in the heart of fashion week madness. But here, it's a controlled madness. One with walls of tanned leather banquettes for you and Svetlana and Helena to talk deep into the night about Zen and the art of walking fierce. Plus: a library. Because... education.

'Twas born of French literature and vacations.
Émile Zola's Nana—a heartwarming tale about the rapid social ascent of a prostitute—inspired the place (hence the sketches from various editions on the wall). Another inspiration: Punta del Este in Uruguay, where Bardot used to leisure. Hence the presence of chorizo empanadas, cachaça and pisco cocktails.

Get the secret cocktail.
It's called the Amor, Amor, and it came to the cocktail guy in a dream. A dream of aged rum, cream and honey.

So pretty much the opposite of a nightmare.