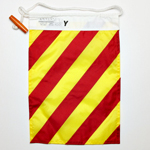 SYMBOLIC IMPORTANCE
Nautical Flags. Start Here.
You require: A handsome means of decorating your den. Or of asking that flaxen-haired first mate 10 knots off starboard to come aboard your motor sailer.
You'll receive: A full set of nautical communication flags sewn by America's oldest existing flag-maker. And hopefully instructions on how to read them.