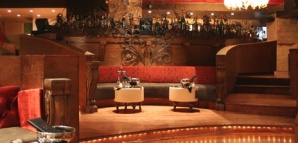 Nothing short of a state of temporary insanity could get us inside Crobar. Until we found out that the Pink Elephant's lush new digs were settling in inside.
If you're worried about possible Cro-sspollination, rest assured that unlike nearby Home and
Guesthouse
, there is no public door, passageway, tunnel, window, storm drain or ditch through which the Crobar crowd can access any part of PE's 5,000-square-foot space.
That settled, the David Sarner club's new overhaul is worthy of what's sure to be some crazy good times. Like a sophisticated garden of decadence, green grass hedges line the halls leading to a brick-walled den covered in roses and greenery. Swirl-shaped banquettes are oddly sized to fit all numbers of parties, and each table has fully stocked "spirit towers" of complimentary high-end liqueurs and strawberries (which appear to be a much better draw for the ladies than vodka and orange juice).
And just when you thought dance floors were obsolete, PE's setup is sure to become the hottest space in the city for gyrating nubile European girls. The sunken space comes with a supersonic sound system designed by (no joke) NASA engineers, a laser-projecting disco ball that descends around 1 a.m. to take things to the next level, and, winning the Oddest Stroke of Genius award, a "scent machine" (above the DJ booth) that pumps out aphrodisiac scents like apple, candy shop and ylang ylang. If this still doesn't get the ladies in the mood, we've been told that the machine also shoots out pheromones into the air.
Finally, a club that works for us.