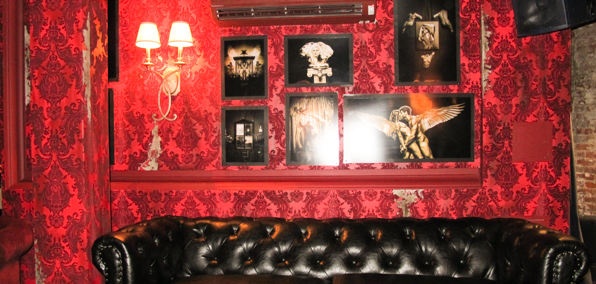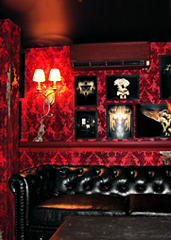 Gothic iconography. Illicit-substance mirror art. Sam Ronson. A unisex bathroom complex. Red and blue velvet. Music-reactive dominatrix light boxes. Massive blue tufted-leather sofas. Profanity. Raging supermodels. Darkness. Gins. Tonics.
You must be at
The Raven
, a subterranean Gothic fantasy of a club in the bowels of MePa, now sort of open for the week of fashion, but fully operational September 17.
That poem "The Raven" by Edgar Allan Poe. This whole place revolves around it. There's a quote from it splashed on the darkened stairwell as you walk in (past the wall of melted candle wax). There's a modern pictorial retelling of it on the red-velvet-brocaded wall and columns just past the entrance. And there's a general "nevermore" type of vibe happening as whatever internationally renowned DJ spins and spins you into oblivion.
You're coming here to dance. Simple as that. There's a piece of needlepoint tucked away in a corner that says "F**k You Sunrise." Heed it. There's a bar in the back, past the faux-fireplaced DJ booth.
You can figure that part out.