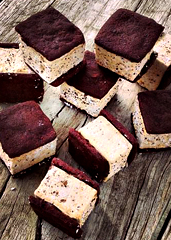 If it's after Labor Day, then it's time for you to admit that summer is officially over.
And if summer is officially over, then it's time for... well, s'mores.
We don't make the rules.
So meet
Malvi,
a new Cumming-based marshmallow sandwich operation put on this earth for the sole purpose of helping you transition into fall (and making fancy s'mores), available online or in-house now.
In the upcoming months, there'll be an abundance of s'mores-related activity in your life. But for now, there's a girl named Laura making them for you out of her family's restaurant in Cumming. And they're of the you-don't-have-to-toast-them-yourself variety. It's already been taken care of. It's incredibly thoughtful of her.
She's got four flavors, so start with the sampler box. Try each one when you feel it's most appropriate. For breakfast: go espresso between chocolate cookies. For lunch: vanilla salted caramel (or hibiscus, if you're into hibiscus). And for when you need a favor, give someone the chocolate-on-chocolate one. Use that wisely.
Or just call Laura up and request the s'mores kit. The marshmallows and cookies will come separately, so you get to make them yourself.
Which is kind of the whole point.