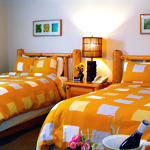 DOUGLAS, MI
A 1950s Motor Lodge in the Woods
The Place: The Pines Motor Lodge.
The Provisions: A 1950s-era motor lodge that's been lovingly restored to its gimlet-green glory. It's Leave It to Beaver gone to summer camp.
The Unique Factor: Tiki lamps and Polynesian travel posters complete the retro theme. Actually, the old-school cocktail glasses and a real gimlet will.