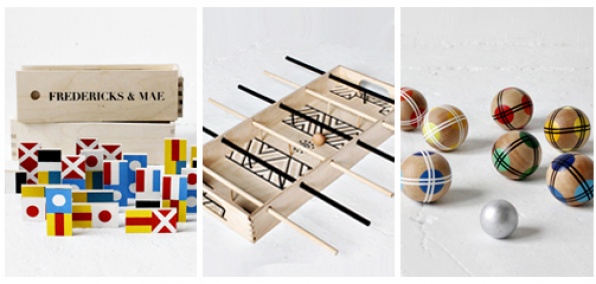 McFly's hoverboard.

McAllister's Talkboy.

The beer-fetching robot from Rocky IV.

Now those were some toys...

... that were nowhere near as handsome as these.

Get all wide-eyed for Fredericks & Mae, a virtual toy shop that's filled with the kinds of bocce balls, foosball tables and backgammon sets you'd refer to as dashing... while keeping a straight face, online now.

This is what happens when two classic-game-obsessed artisans start horsing around in a little borough called Brooklyn. You wind up with hand-painted checkerboards, ornately carved foosball tables and a couple of ceremonial rice-paper kites. Right, just like the kind you grew up with.

We're thinking the play here is to pick up a few things to keep fireside for when fireside season begins. Things like a domino set that uses silk-screened nautical flags instead of numbers. And a cotton pouch of clay marbles that's ideal for... whatever it is you do with marbles.

Oh, and by the way, they also make and sell their own multicolored horsehair brooms here.

So you can stop looking for one of those now.