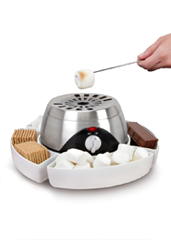 We know you're getting antsy for fall.
Staring longingly at the cardigans in your closet.
Training rigorously for your Sunday tailgates.
Stockpiling s'mores-related essentials.
Wait. Please tell us you've begun stockpiling s'mores-related essentials...
Gather round the
Indoor Flameless Marshmallow Roaster
, an electric s'mores kit that'll have you roasting marshmallows in the cozy confines of your house (hey, sometimes it rains), available online now.
What this is: a stainless-steel electric heater with the singular focus of toasting marshmallows to your desired level of toastiness. Plus a handy divider tray for holding all your s'mores-related supplies.
What this isn't: a fire hazard. Because there's no flame. That part's important.
And that part's what makes this your new secret weapon for all second-date, let's-go-back-to-my-place-for-dessert scenarios. In that case, you'll lay down a blanket on the living room floor. Lower your A/C to a brisk 58. Haphazardly strew some leaves around the place. And let the evening lead where it may... Right, to s'mores. It leads to s'mores.
Then, just plug this thing in, slide some marshmallows onto the steel skewers and hold them over the electric heater. A few seconds later, they're all charred and ready for your s'more sandwich.
It's just how the early settlers did it.