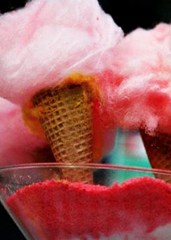 When you eat a breakfast that tastes like french toast, chances are you're eating french toast.
But sometimes it's not french toast.
Sometimes it's cotton candy.
This is one of those times.
Raise an eyebrow for
Cotton Cravings
, a local outfit that's injecting cotton candy with the kinds of food and drink you just generally wouldn't expect to be injected into cotton candy, online now and soft-opening Friday in Lenox Square.
This stuff looks, feels and works like your basic cotton candy. You'll open your mouth, put some in and swallow it. Only instead of coming in flavors like "pink" and "blue," it comes in flavors like chai latte, piña colada and, yes, french toast.
Since their little Lenox kiosk isn't open just yet, go ahead and
hop online for now
. Get familiar with them. Try to figure out how they made fluffy sugar taste like marshmallows and cookie dough and apple pie.
Oh, and about your next party. They do parties. Just tell them what kind of custom flavor you want, and they'll show up and make cocktails with it.
Hopefully your next party is a state fair.