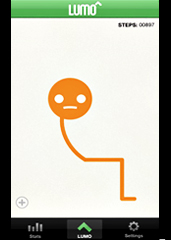 You were just enjoying a nice lunch.
And you didn't even realize: Kardashians to your right. Bachelorettes to your left. Some Housewives directly ahead.
Suddenly, you were an unwitting extra in three reality shows simultaneously.
Then, the unthinkable: on TV, your posture was slightly less than perfect.
Today, the never-ending spiral of lumbar shame ends. Meet
LUMOback
, a new gadget that'll force you to remain diligent about... standing up straight, available online now.
A more regal stance. Certainly couldn't hurt on your approaching date. Or audition. Or stand-up-paddleboard acro-yoga class. (Just spitballing here.) And no one will ever see the thing anyway. It's attached to a strap that goes around your waist, under your shirt. Its one mission: to bug the hell out of you every time you slouch.
Slump slightly and it vibrates—and it talks to an app over Bluetooth, so your phone will light up with a graphic of a sad, slumped person. It also keeps track of how often you sit, stand, run and sleep, and the calories you burn doing those things. It's kind of like having an old-timey etiquette coach, a modern-day stalker and Batman's utility belt all in one.
We're sending one to Affleck right now.