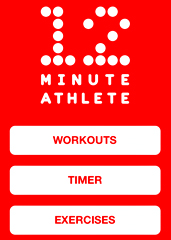 We noticed your six-pack abs are missing a pack or two.
Also: beach season is almost over.
So you need to get in shape. And you need to hurry.
Maybe this will help:
12 Minute Athlete
, an app that'll start to chisel your body in less than a quarter hour a day, available now for iPhone.
You've crossed paths with these super-brief, super-high-intensity workouts before. Seven-minute abs. Eight-minute leg blasts. Well, this thing's workouts last 12 minutes. Which sounds like the right amount of minutes to us. Plus, they work your whole body.
The app is pretty easy to use. After downloading it, stick figures will guide you through routines that include everything from burpees to pike jumps to tuck jumps. If you don't know a pike from a tuck, you can watch a video demo by the app's creator, a certified personal trainer named Krista.
You can also tell the app what equipment you have access to—a kettlebell, a box, a dip bar—and it will tailor workouts to this equipment. And if you don't have any equipment, it'll give you a workout you can do with just a body.
Preferably yours.