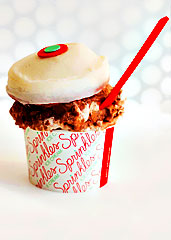 I scream, you scream, we all scream for ice cream.
...
And we all completely lose our f**king minds for ice cream cupcake sandwiches.
Prepare for a bold new brain freeze at
Sprinkles Ice Cream
, a bright and shiny ice cream counter that's making critical advancements in the field of dessert, now open in Preston Center.
Yep, Sprinkles again. One month after unveiling a cupcake-dispensing ATM, these guys have just opened an ice cream parlor right next door. So, good for them. Good for you. Good for unorthodox Monday afternoon client meetings.
Inside, it's all clean and white. On the wall: the menu. On the menu: things like Cap'n Crunch ice cream, red velvet waffle cones and—yes, we said red velvet waffle cones.
Getting a cup or cone: sure. That would be fine. Pleasant, even. But the thing you really want to be sampling here is the ice cream sandwich. That's a scoop of ice cream (perhaps salty caramel or coffee fudge almond) stuffed between a pair of chocolate cupcake tops.
It's a nickname away from being the next cronut.