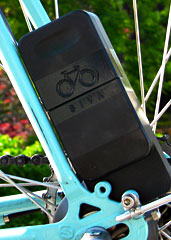 Well, here we are, late summer. Makes you want to get off the grid and unplug for a while before things get nuts again.
Or better: get off the grid and
stay
plugged in.
With this:
The Atom
, a little gadget that lets you harness energy from your bike and use it to power your devices, available for preorder now for November delivery.
You remember that ad where Lance Armstrong powers ESPN headquarters with a bike. That's pretty much what this is, except instead of a building, you're powering a USB battery pack. Oh, also, your blood is clean.
Anyway, it's pretty simple. Hook it on your back axle. Ride your bike. When you need some power, detach the battery pack and plug it into your phone or tablet. It stores enough juice to give a dead iPhone 5 a 75% charge in roughly the same time a computer connection could do it.
So you can see where this would be useful. Like: you're a doomsday prepper and you need an easy energy source to connect with the other members of the resistance. Or: you're out on your bike one day and you need to call home.
You know, either one.