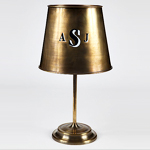 THE LAMP
Put This on Your Desk. See Stuff.
The Old: Whatever light source is currently sitting on the edge of your desk.
The New: A classic brass table lamp from Partners & Spade, which you'll personalize with a hand-painted monogram. And which you'll use whenever you're working late or forget your initials.