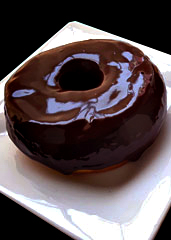 When someone offers you a donut, you say yes.
When someone offers you a bacon donut, you say, "Where the hell did you get that."
Here.
Here is where the hell you get that.
Joyfully skip-through-a-field-of-daisies-while-Michael-Bolton-plays for
Glazed Donut Works
, a utilitarian bakeshop that's making donuts... and nothing but donuts, now open in Deep Ellum.
Once inside, you may notice the white walls and light wooden floors. The chalkboard menu on your left and the pink display case straight ahead. And... that's about it. No frivolous chairs and tables in this place. It's simple, functional and effective, in that do-one-thing-and-do-it-well kind of way. Trotsky would have loved it here.
Anyway, make it a point to swing by tomorrow and try an
Elvis Killer
. That's a donut topped with crispy bacon, peanut butter, bananas and honey. That's a meal. But if you're more of a traditionalist, that's fine, too. A classic glazed and a cold-brewed iced coffee should do you right.
Oh, and we just realized tomorrow is a weekend. Great. You love weekends. But more importantly, weekends are when they'll soon start late-night service via that sliding window by the front door.
Donuts. The sliding window to the soul.