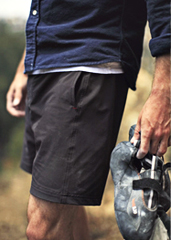 The great outdoors. They're calling for you.
To climb Pikes Peak.
To finish a triathlon.
To saunter around town with a coffee and a bialy, looking like you could've just climbed Pikes Peak or finished a triathlon.
But first, you'll need these shorts...
Introduce your thighs to
Olivers
, a San Francisco–based short-making operation that's... making shorts. Really, really versatile/handsome/not-too-Prefontaine-y shorts, available for preorder now via Kickstarter to ship later this fall.
Here's the problem with shorts: they're too long. Or too baggy. Or not made by a bunch of outdoorsy tailoring experts who've joined forces with veterans of the clothes-you-require-to-summit-Everest industry (think the North Face and Arc'teryx). But these are. Which makes sense, because otherwise there'd be no point in us telling you that.
Basically, what they've come up with is a pair of half-pants that are constructed of a water-repellent, four-way-stretch fabric with ballistic-mesh-lined pockets and a parachute-cord drawstring. Yeah, they're durable.
So what you'll want to do is pick out a color (we're thinking slate), order a pair and then make them your default weekend shorts for stuff like hiking, biking, swimming the English Channel and competitive speed walking.
Yes, that's a thing.
Pretty sure that's a thing.