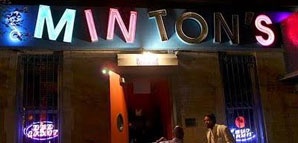 "Welcome to Minton's. It's Saturday night, and I know some of you are out on parole." And with that, the music at the infamous
Minton's Playhouse
begins.
Forget lounge singers and velour-trimmed tuxes, jazz is served up good and raw at Minton's, the classic '30s Harlem jazz house that discovered legends like Charlie Parker, Miles Davis, Dizzy Gillespie and Thelonious Monk.
Shuttered down in '74 (after an unfortunate foray into disco), Minton's reopens this month with its original giant neon sign blazing on the corner and small stage dusted off and ready to make more history. Inside, settle in and order a Sugar Hill Golden Ale from Veronica, and kick back with the rest of the diverse, laid-back crowd: Japanese businessmen, hipsters and, of course, old school Minton's patrons in suits and cravats (with trumpets tucked under their arms).
The house bands blow some great jazz (like
Eli and the Organizers
, who roll in with an old wooden organ on a dolly), but make sure to stay on for their famous after-hours jam sessions, when things get a little crazy like they did back in the day. Guys in the audience start jumping onstage with their own instruments and doing their thing (if you're getting ideas, we hope your "thing" doesn't involve a kazoo and scatting).
According to the manager, you never know who's going to walk through the door. Unfortunately it'll never be Miles, but at least you can be pretty sure it won't be Kenny G.