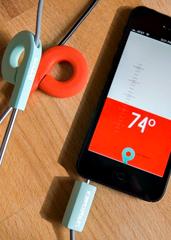 Here's the problem with barbecuing in your backyard:
You can't do it from your living room couch.
Here, this should help.
Stab something with the
Range
. It's a thermometer. But the kind with a corresponding iPhone app that'll text you at the precise moment your steak (or homebrew IPA) is ready, available for preorder now.
This is like a simple temperature probe, except less simple. Because it was developed by some MIT grads who're selflessly dedicated to your meat consumption. Also, because it connects to your iPhone/iPad and gives you real-time burger temperature updates. Yes, fancy.
Right, so you can see how this would come in handy. Like, say, when the Cowboys are on TV. You're in front of the TV. And your pot roast is in the oven. Or when you need to monitor the exact fermentation temperature of that beer you're brewing. While in a pool. In San Antonio.
Just grab a couple iOS devices (connect one to Range and keep the other in your pocket), then jab the probe into whatever you're making, input the desired temperature and go about your day. When it's ready, you'll get a text and a sound alert. Like a clucking chicken.
Maybe just keep your phone on vibrate.