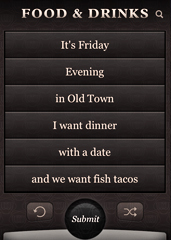 Summer weekends, you tend to have just three letters on your mind.
B-E-E-R.
Hang on.
P-C-H.
Yes. There it is. PCH. You just need some ideas about where the PCH might take you...
Here to assist is
The Next Move San Diego
, the
latest edition of UrbanDaddy's award-winning mobile app
, available now for iPhone and Android.
So yeah. We're in August. The third act of summer. (Around here, September is the sequel, and October is the ill-advised third installment.) Which means you've got some weekends in your immediate future that'll require a trip south. San Diego it is. And once you arrive:
Maybe you're with a date, in La Jolla, and you want côte de boeuf and a nice view of the ocean. Just open up the app, select the appropriate details—who you're with, what you want—and it'll tell you your next move. (Which, in this case, is probably the Steakhouse at Azul.)
Or maybe you're with friends, in the Gaslamp, and you want scotchy scotch scotch—guess you're all headed to Prohibition. And yes, "scotchy scotch scotch" is a real option in this app. As is "staying classy."
Had to be done.