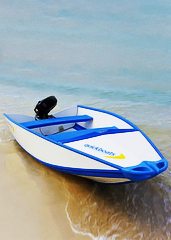 Ah, the ancient art of origami.
You've dabbled from time to time. Party requests and whatnot.
Boats, swans, the Statue of Liberty. No big deal.
Time to up the ante. Because last we checked, paper boats, well, they didn't carry people.
All hands on deck for
Quickboat
, a flat-packed skiff that you can fold into shape in under a minute, available online now.
Time. There's not much of it on your schedule to go around. So do us a favor. Set a timer for 60 seconds. Seriously. Because that's all it's going to take to assemble this nautical vessel and get her sailing the high seas.
So the next time you get the itch to go all
Master and Commander
on Biscayne Bay, go to this site and order yourself a boat. A 12-foot, 40-pound watercraft made of high-end fiberglass and Kevlar. The whole thing comes packed in two duffel bags that can be carried by you and a friend from the car to the water.
Then, all that's left to do is empty out the bags, swing and lock the pieces into shape, click the seats into the boat and attach the motor to the hull.
Okay, so it might take 90 seconds the first time.