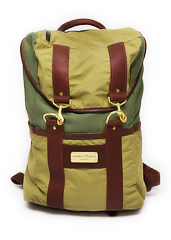 Open scene.
You're on the Acela to some far-flung locale. (Okay, New York.)
Attractive stranger: "Great bag you've got there."
You: "Thanks. It was once deployed with the 10th Mountain Division in Afghanistan."
Attractive stranger: "Really..."
End scene. And yes, really. At least it
could
have been, since it's from
Sword & Plough
, a new outfit that recycles military surplus gear and turns it into handsome bags and cases, taking preorders now.
If this stuff were any more American, that
Full Metal Jacket
drill sergeant would start barking at you when you opened it.
Your entrepreneurs: a couple of Army brats who were born at West Point. Their stuff: all made in America (much of it by vets). And their materials: 80% repurposed military paraphernalia (so it's all water-, fire- and UV-resistant, too).
Take the rucksack—made from Gore-Tex sleeping bags and laundry bags, and trimmed with leather. Exactly the kind of thing to grab for an impromptu road trip. Or the iPhone sleeve, cut from canvas tent corners in standard-issue olive.
You'll place your order now, but then you'll have to wait as they ramp up production. Currently, they're planning to have it at your door on Halloween.
Perfect for your Green Beret costume.