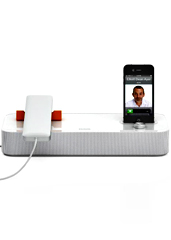 Your smartphone... makes the last one look like a real Zack Morris situation.
And it's hard to even speak about that archaic thing sitting on top of your desk—we've heard it's called a "landline."
So let's never speak of it again...
Behold the beguilingly named but deceptively simple
Invoxia Audioffice
—it's a sleek little phone dock that turns your iPhone or Android into your futuristic office phone, and it's available now.
If you've ever tried to arrange a group call with Tokyo via your smartphone, or you just think regular phones are kind of ugly and therefore are completely unsuited to be vessels of next-level creative discussion in your place of business... here you go.
Basically, it's a phone dock. A phone dock with six sharp-sounding speakers. And four microphones. And a handset. And friendliness with Bluetooth. And it'll make your call about the Q2 numbers sound like... well, that'll still sound like a call about Q2 numbers. But you can sit there hearing it really clearly while you and your desk look all sleek and effortless.
Which takes a lot of effort sometimes.