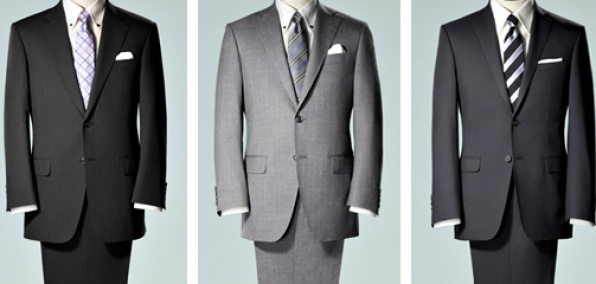 Naked.

That's how you usually dress when you shower.

Unless, you know, you're taking one of those formal showers...

Shoot a skeptical glance at Konaka Shower Clean Suit, a curious line of suits (and ties and shoes) that are made to wash in the shower (nope, nothing strange about that), available online now.

Just so we're clear, in no way, shape or form is this going to replace your favorite suit. What it will do, though: replace your water-soluble, wrinkle-resistant, amino-acid-treated suit that you launder with bathwater. Which, okay, you probably didn't have one of those anyway, but still, point stands.

To order, you'll need to head to their site. Fair warning: it's in Japanese. Like... really in Japanese. So hire a translator. Or just click on a picture of something whisper-gray and pinstriped, and then click on something that looks like a shopping cart. You should be good from there.

Sometime later, your suit will arrive. Put it on. Wear it out. Get it dirty. Then, when you're ready to clean it, all you need is a steady stream of water. Like a shower. Or a rainstorm. Or a busted fire hydrant. Or a bubble bath.

Which reminds you: take more bubble baths.