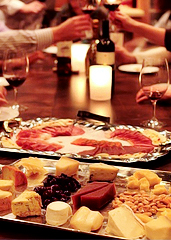 If you're anything like us, you love eating borscht in some random guy's apartment.
That came out awesome.
Weird. We meant weird.
HomeDine
. That's the awesome part. It's a new iPhone app that automatically connects you with people all around the city (and the world) who just so happen to be throwing themed dinner parties that you're invited to. And it's available now for iPhone.
If it helps, feel free to think of this as OpenTable for private dinner parties. It'll also help to have an advanced-level sense of adventure.
Because once you launch the app, a list of real-time dinner parties will pop up. One might be hosted by a guy from Tel Aviv who wants you to come over and eat Thai curry. One might be a Russian-themed feast with borscht, caviar and enough vodka to really do some good.
Either way, the app will locate you via GPS and let you pick a dinner party around you. You can learn more about the host. Connect through Facebook to see who else is going. Check out the menu.
Oh, and same goes if you want to host a party of your own.
You've hidden your pimento loaf from the world for too long now.