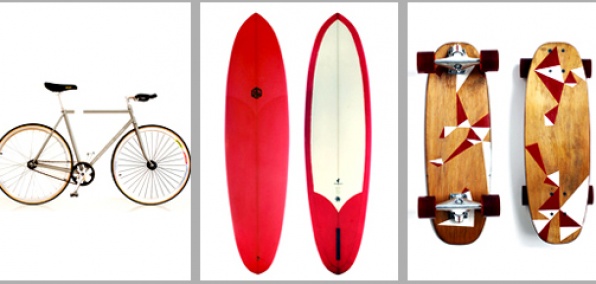 As of right now, you've been summering for 26 days straight.

That might not seem impressive, but it is.

Especially when you consider you've been doing so without these Portuguese leisure pieces...

Say 'sup to Driftwood Collective, a guild of surf artisans making some seriously gorgeous longboards, skateboards and other such sundries, online now.

How this came to pass: a bunch of surfers in Portugal needed to kill time in between swells. So they made stuff. Laid-back stuff. Endless-summer stuff. Then, they put it on the Internet. Which is great, because you've been meaning to...

... get a new surfboard.
They've got five models, all handcrafted and all perfect for sticking in the sand. Or actually surfing on. They also make hand planes, which are basically mini surfboards for your hands. Apparently people do that in Portugal.

... cycle across Europe.
Right, bicycles. They've got those, too. They're made from recycled racing parts, so there's a chance someone won a Tour de France with it. Or delivered papers.

... do a little redecorating.
Find the beach-house-y reclaimed-wood table on the site. Then put it on your deck. Then cover it with Old Bay crabs. 

Then... we trust you can take it from here.