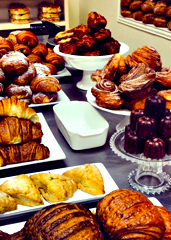 The key to a perfect sandwich: great bread.
The key to great bread: good water.
Also, wheels.
Flag down
Village Baking Co.'s Mobile Bread Oven
, a to-go wood-fired version of the University Boulevard original, shuttling freshly baked everything around the city now.
Below, essential bread intel. Yup, bread intel...
Here's the deal with that oven.

It's a modified mobile beauty from Dallas-based Bread Stone Ovens. They make ball bearings. Just kidding, they make some of the finest wood-fired brick ovens in the country. So, exactly the kind of thing you want baking your caramelized onion and lardon focaccia.
Here's how you'll find it.

You could either keep an eye out for a trailer with a great big oven hitched to the back. Or you could follow them on
Facebook
and see exactly when they're popping up at local farmers' markets and events. Whatever's easiest.
Here's how you'll throw a flatbread party in your backyard.

Pick up the phone. Call these guys. Give them your address. Customize a menu. And they'll happily drop by to host a private party/bread-heavy brunch out in your driveway.
Ever wonder why you drive on a parkway but host bread-heavy brunches in a driveway...