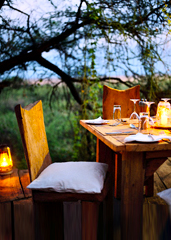 There's nothing quite like a home-cooked meal.
Speaking of which, you should really know more people with airport hangars for homes.
Break bread somewhere curious with
Salted Honey Feasts
, a new roving dinner series that'll have you supping in unusual places in the company of fire dancers in no time, taking reservations now for the first monthly feast this Sunday.
To whoever the hell managed to put the pastry chef from Octopus Bar and a
chef
chef from the farmers' market circles in the same room: thanks. It resulted in magical things. Like the forthcoming dinner in a private airport hangar. And the other forthcoming dinner in a yoga studio.
But first things first… Sunday.
Step 1:
Book your seats here. Now
. They've only got 35, and they're going fast.
Step 2:
Find someone who's into live bluegrass and Shakespeare (it'll be lightly
A Midsummer Night's Dream
–themed).
Step 3:
Go to a random farm. Say yes when a Leon's bartender offers you a champagne cocktail. Plunge a fork into some pork butt that was roasted for five hours. Chew like your good fortune depends on it.
Oh, and they're finalizing details now, but yeah, you may need to watch out for someone casually dancing around with fire.
You always do.