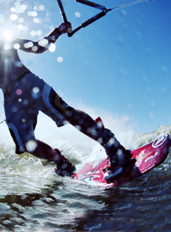 96. 101. 101. 100. 100. 100. 94. 95. 94. 96.
Above: your 10-day forecast.
Below: the wakeboard park that's going to help you survive it. 
Throw on something protective for
Hydrous Wake Park
, a man-made and boat-free wakeboard track for zipping around the water behind electric tow cables, now open on the shores of Lake Lewisville.
The main difference between this and regular wakeboarding: no boats. And no Lynyrd Skynyrd blasting from said boats. Instead, you've got a bunch of overhead cables. You hold on. They pull you. You ride around the lake. And that's about it.
So this weekend (or today, if you can't wait), hop in your car and head north. Once there, you can rent all the necessary equipment, take a lesson or just grab a towrope and jump into one of the three man-made lakes. They're separated by skill level. Don't overestimate your skill level.
Oh, and strewn about those lakes: ramps. Big ones. The kind that'll send you soaring through the air. Take them if you fancy yourself an expert.
Go around them if you like not being in a cast.